No. 4th, USB Power Voltage and Current Measuring Device!
Precautions when using (Updated on 16 June 2013)
In order to increase the accuracy of the measurements, the meter display will be cleared to 0 while the power switch is just turned on without connecting to any device. (No Watt consumption)
The value display starts from 0 then up
The current and voltage values cannot be measured correctly if the meter display of CT-USB-PW has not be back to 0 while the power switch is just turned on.
After the meter display turns back to 0, target device can be changed for measurement while CT-USB-PW is connected with the Host-side.

Please click here for reference infos
Please click here for downloading the user manual
Features:
Support USB1.1, USB2.0, USB3.0
Display all the current and voltage values of the USB devices connected to this USB Power Meter

Operation
1. Please connect the USB Power Meter into Host machine. Note: At this time, no target devices should be connected.
2. When the Meter is ready for use, it will display 0.00A.
3. Please connect a target device to the USB Power Meter.
4. The mode of the Meter can be changed by pressing button as follows.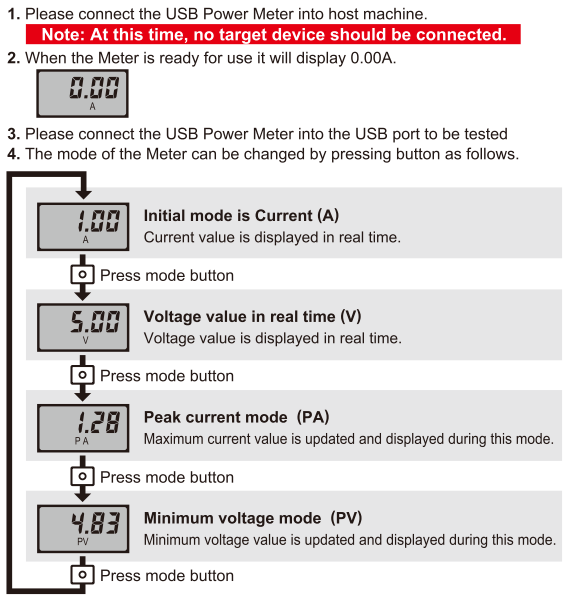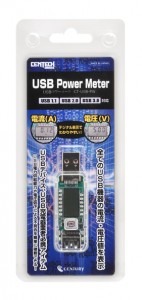 Package Contents
USB Power Meter
UserManual
Specification
Model Name: USB Power Meter
Current Value  Error +/-2% (+/-0.04A for 0.1 ~ 2.00A)
Voltage Value  Error +/-1% (+/-0.05V at 5V)
Note: Current values of less than 0.05A are not measured and are displayed as 0.00A
Model Code: CT-USB-PW
JAN: 4549032005462
Size 22mm(H) x 65.8mm(L) x 10mm(W)
Weight 13g
Operating Conditions  Temperature 5~35℃ , Humidity 20~80%
(None condensing)
Power Consumption 10mA (at 5V)
Supported Environments
HOST Machine and Device equipped with USB Port
※ Cannot promises to support all the computer equipments in the nature of the product.